---
We here at UUC are blessed with terrific programs and opportunities for all ages as well as with great staff and a beautiful building and grounds. We all know it takes substantial financial support just to maintain all of this, and it requires even more to expand and improve. It is now that time of year when we announce our annual Stewardship Campaign which officially will kick off in March. Our theme of Worship Beyond Walls: Connection, Community, and Service refers to our efforts at being more outward-looking and increasing our connections and service to the greater community.
Due to the COVID-19 pandemic, the 2021 Stewardship Campaign will look a bit different from years past — most notably in that there will be no in-person campaigning, and pledging will be mostly online. The campaign will officially start on March 14, but we will again promote "Early Bird" pledging beginning February 15. Submitting early pledges before the official campaign kicks off is easier for many in the congregation, for the Stewardship Committee, and for the legion of recruited stewards. While submitting your pledge before the official pledge drive begins in March simplifies Stewardship Committee planning and management, it also allows pledgers to more quickly bask in the warm glow of giving. And by pledging early, donors can avoid the angst associated with being repeatedly asked to follow through with their pledges so we can continue our work here at UUC. Stewards will be updated on who has pledged and will be instructed to not contact early pledgers. You'll be home free, off the hook, and happy!
As always, stewards reach out to congregants who do not pledge early to talk about the Stewardship Campaign, how it impacts UUC, and to answer any questions you might have. And, of course, to ask for your pledge. Soon, all pledge materials, including the brochure, FAQ, and pledging link will be emailed to congregants and made available online so watch for more information. We will continue spreading the word to the entire congregation that pledging early is a great way to jump-start the campaign.
It goes without saying that this past year has been difficult to varying degrees for all of us. Through heartbreak, uncertainty, serial disappointments, and fear, we have established that we can endure gracefully. These times of hardship for so many in our community make our UUC work even more valuable and pressing. The superlative job Rev. Pam and the congregation have done to keep us together, gather on Sunday, and maintain many of our programs and services speaks volumes about our commitment. We will prevail through these difficult times, and with your pledges can emerge stronger than ever.
In fellowship,
Andy Roberts, Stewardship Committee Chair
February 1, 2021
March 30 Addendum: This has been such a strange year, and we have maintained our sense of love and community by gathering via Zoom for services, meetings, social events, our auction, RE classes for all ages, celebrating joys and sorrows together, and planning for our future. We hope that we will all be together in person in the coming months (although the Zoom option will be available even after that time).
---
Important Dates
February 15, 2021: Early-Bird Pledging Begins
March 14, 2021: Pledge Campaign Kickoff
April 11, 2021: Final Day For Official Pledge Campaign (Pledges can be made after that date, but the Board will use the money pledged as of April 11 when making adjustments to the 2021–2022 UUC proposed budget.)
May 13: Board Meeting On The Budget
May 23: Informational Meeting
June 6: Congregational Meeting
---
Additional Information
Pledge-Drive Progression
| | | | |
| --- | --- | --- | --- |
| | | | On Saturday, March 20 the youngest member of the Stewardship Committee made a visual presentation of the pledge-drive progressing. Click on the image to see the video. |
| | | | |
| --- | --- | --- | --- |
| | March 26: Under careful guidance, we are moving along the path. Click on the image to see the video. | | |
| | | | |
| --- | --- | --- | --- |
| | | | April 2: Click on the image to see the Bunny moving towards our goal. |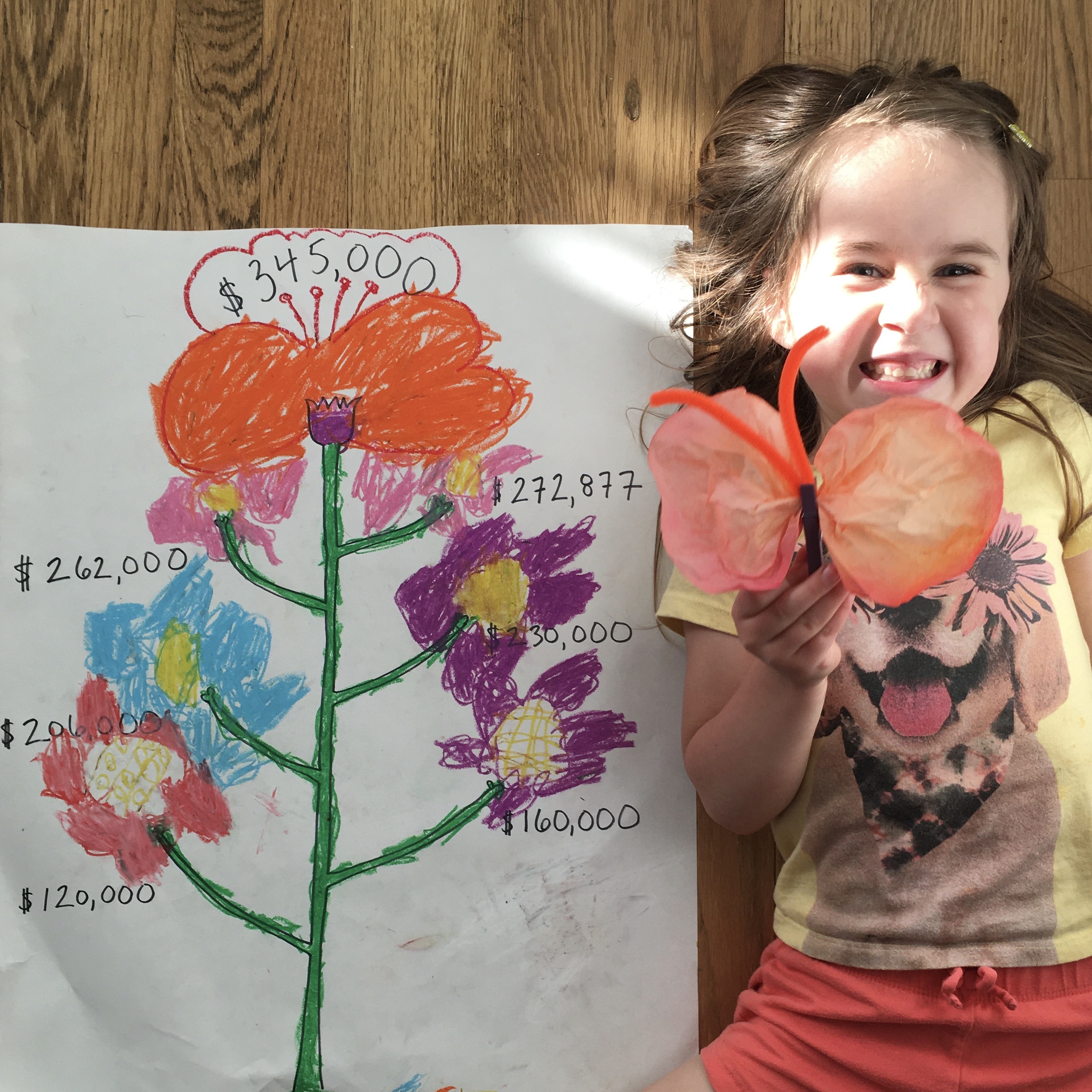 April 9: Butterfly time
March 1: 46 "Early Bird" pledges for a total of $120,067, which is over 33% of our goal of $345,000.
March 13: 56 pledges for a total of $159,992 — last day of "Early Bird" pledging.
March 21: 80 pledges for a total of $206,517.
March 30: 98 pledges for a total of $230,007.
April 4: 112 pledges for $262,017.
April 11: 142 pledges for $293,537. This is the final day for the "official" pledge drive. But you can still pledge!
---
How Do I Pledge?
The easiest way is to click on the MAKE A PLEDGE link below, which takes you to an online form that you just fill out and submit.

Alternatively, one can send an e-mail to administrator@uucnrv.org.
At any time during the year, one can make pledge payments online.
---
Stewardship 2020–2021 | UUC Home
Most recent modification: April 12, 2021